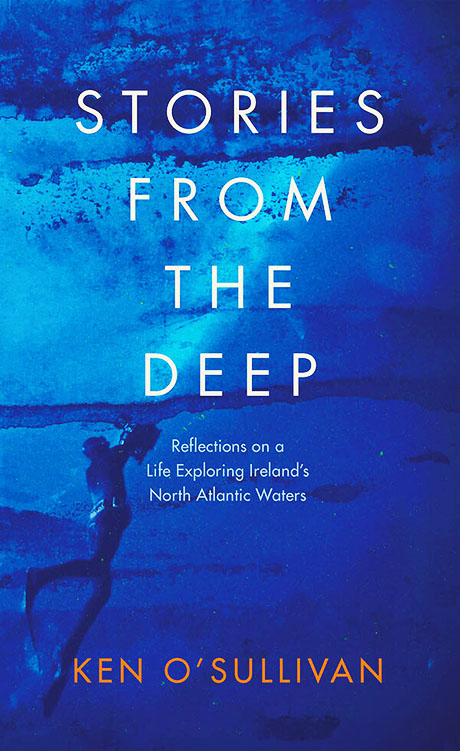 Stories From the Deep
Spun from the author's first-hand experience as an underwater cameraman and filmmaker, from memory, natural history and the culture of Ireland's coastal communities, Stories from the Deep is a profound and lyrical exploration of Ireland's ocean waters through narrative and poetry.
From encounters with its rarest and most striking fauna, like the blue whale and basking shark, to the broader considerations of its impact on language, on history, and our shared sense of place, this genre-defying work is an eloquent and urgent tribute to the enduring beauty of our natural heritage.
Reviews
"A beautifully written book; nostalgic, informative, exciting and lyrical."
Sue Leonard – Irish Independent book review
"Soulful, absorbing and powerful"
Diarmaid Ferriter – Broadcaster & Academic
"Daring and bold, and with a sixth sense for wild spectacular beauty, Ken O'Sullivan has captured images and scenes which have in turn captivated audiences…"
4 Stars. Paddy Kehoe- RTÉ Culture Review
"I suppose I could just say that it's beautifully written and leave it at that. But this book deserves more attention. The author has a way with words and a quiet lyricism that's guaranteed to charm. O'Sullivan paints such evocative word-pictures of what's going on. The writing is a treat, so buy the book for that."
DIVER Magazine UK
O'Sullivan's writing is as weightless as the plankton that float around him.
Dan McCarthy Irish Examiner
Tales of shallow dives and far-flung adventures break on gentle waves of poetry and images of coast and wildlife, ghostly basking sharks and exotic reefs, a moon jellyfish that almost looks like an alien planet itself, water lapping at its outskirts, the earth glowing beneath.
The book is a romance with the Irish sea and a fling with the tides of foreign shores.
Dublin Enquirer